Interested in a career with Gene Cook Supports?
---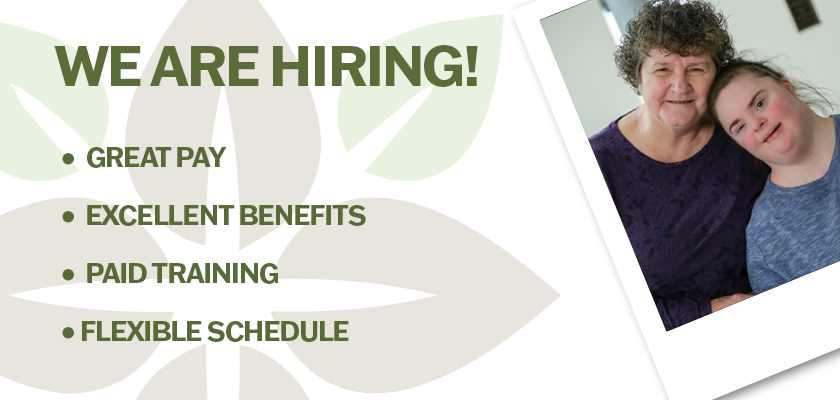 Since 2014, Gene Cook Supports, LLC has been making a difference for individuals with intellectual and developmental disabilities, and their families, both in the home and the community.  We currently provide services for Allegheny, Westmoreland, and Fayette Counties. GCS welcomes applicants looking to make a positive impact on the lives of the clients that we support.
OPEN POSITIONS:
Direct Support Professional (DSP)
Are you a caring, energetic & compassionate person?
Would you like to make a difference working with individuals who have intellectual & developmental disabilities?
WE WANT YOU!
We are seeking full and part-time Direct Support Professionals in Allegheny, Westmoreland, and Fayette counties.
Starting at $17-$21 with incentives!
Primary functions:
To teach, support, and maintain skills, behavior, social and recreational, and incidental programs
To provide direct care to individuals with developmental disabilities in residences, family homes, and community settings
To provide individual care and ensure safety in the home and community
Provide transportation when applicable
Maintain accurate documentation regarding progress notes, timesheets, and other required documentation
Communicate with other staff and management in a professional manner
Provide updated information in a timely manner to meet state and federal guidelines
Complete all required and ongoing training as needed
Qualifications:
Must be legally authorized to work in the United States
One (1) year experience working with individuals with disabilities (preferred)
Must pass required background checks and clearances (Criminal, FBI, Child Abuse Clearances, etc.)
Valid Driver's License
Valid vehicle registration
Valid vehicle insurance
Degree required for Enhanced Services
Successful completion of 6-month Probationary Period
Behavior Support Professional (BSP)
Full and Part-time positions available
Starting at $30/hour for bachelor's level positions and $37.50/hour for master's level positions with incentives and quarterly performance-based bonuses.
Cases available in Allegheny, Westmoreland, and Fayette counties (location is taken into consideration but frequent driving is a requirement for this position).
Primary functions of the Behavioral Support Professional:
Provide initial and ongoing direct support to individuals with developmental disabilities and their caregivers (hands-on training, modeling, and direct feedback) in the home, place of employment, and community setting.
Conduct Functional Behavior Assessments prior to developing the initial Positive Behavior Support Plan.
Revise Positive Behavior Support Plans upon need and within designated timeframes.
Provide training to caregivers on the initial Positive Behavior Support Plans and all plan revisions. BSPs will include corresponding training sheets to immediate supervisor in accordance with the GCS Policy.
Collect and interpret data related to the individual's needs.
Graph and analyze the collected data to access for progress and support changes.
Complete a monthly report based off of monthly data collection and progress toward goals.
Complete Service Notes daily based off of clinical support and recommendations during sessions.
Attend ISPs/other meetings as needed by the team
All paperwork, documentation, monthlies, data collection etc. must be reviewed and signed-off on by supervisors prior to implementation.
Meet with Directors for support as needed and also upon request.
Ensure Frequency and Duration is met for individuals receiving support.
All other duties as assigned.
Qualifications:
Master's degree preferred or highly qualified bachelor's degree with extensive experience.
A minimum of two-years experience working with individuals with disabilities.
Background checks (criminal history, child abuse, FBI).
Must obtain certificates of completion for ODP's Functional Behavioral Assessment and Positive Behavioral Support trainings prior to providing support to individuals.
Must complete GCS New Hire Orientation and all required staff trainings/shadowing.
Must be 18 years of age or older.
Valid Driver's License
Valid vehicle registration and insurance
Must be legally authorized to work in the United States.
Please complete the form to apply.
Gene Cook Supports, LLC is an Equal Opportunity/Affirmative Action Employer committed to excellence through diversity. Employment offers are made on the basis of qualifications, and without regard to race, sex, religion, national or ethnic origin, disability, age, veteran status, or sexual orientation. Reasonable accommodations may be made to enable individuals with disabilities to perform the essential functions.